GDC Kargil organizes tiranga rally
KARGIL, AUGUST 11, 2022:
With a vision to highlight the importance of the national flag under 'Azadi Ka Amrit Mahotsav' and 'Har Ghar Tiranga' program a Tiranga rally was organized today in the premises of GDC Kargil jointly by NSS and NCC Units of the college.
The rally was held by NSS volunteers, NCC Cadets, staff members of the college. The national anthem was also sung by all the participants. On the occasion, Tricolours were distributed among students and staff of the institution.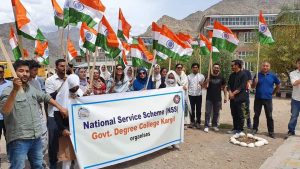 'Har Ghar Tiranga' is a campaign to encourage people to bring the Tiranga home and to hoist it to mark the 75th year of India's independence.