Har Ghar Tiranga: GDC Drass organizes quiz competition
KARGIL, AUGUST 11, 2022:
To commence one week Har Ghar Tiranga campaign under the aegis of Azadi Ka Amrit Mahotsav, Government Degree College Drass today organized a quiz competition titled "Know the Constitution and National Symbol of India."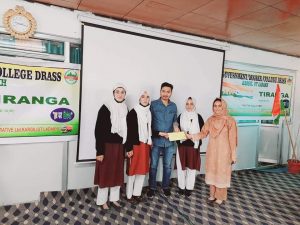 The program was aimed to spread awareness about the Indian Constitution and National Symbol among the students.
More than 100 students participated in the program. Four teams of students from various semesters took part in the quiz competition.
The program was started by Mohd Ali Shabir Assistant Professor English followed by a briefing by Principal GDC Drass, Dr Amjad Ali Abbasi about a series of events to be held in the college during the week-long Har Ghar Tiranga campaign.
The program was hosted by Jegmet Sangyas Assistant Professor Political Science with a number of questions on the quiz theme while Wahida Rehman, Assistant Professor Geology took the charge of the scoreboard.
Team C, represented by students namely: Naseem Ahmad, Mujeeb Raza and Irfan Ahmad, won the competition.
In the end, prizes were distributed to the winner and runner-up teams by Dr Imtiyaz Hussain Assistant Professor Botany and Manzoor Hussain Assistant Professor Chemistry.