EC Mubarak Shah tours to Sankoo
Kargil, October 18, 2022:
Executive Councilor for Works, LAHDC, Kargil, Mubarak Shah Naqvi today toured Sankoo subdivision to inspect the developmental works of several departments.
SDM Sankoo, Executive Engineer, SVD, Sankoo, Assistant Director FCS&CA, Kargil, Deputy Registrar Cooperative Society, Kargil, accompanied the EC during the tour.
At Lankerchey, Councilor Ghulam Haider briefed the EC about the pace of work done under Capex. The Sarpanch, Panch, Naib Sarpanch thanked the EC Shah for visiting there. They raised some demands to which the EC gave a patient hearing and assured of suitable follow-up.
At Sankoo, he along with Councilor Aga Syed Ahmad Rizvi inspected the construction of fertilizer go down, super bazar, construction of Multipurpose hall, residential staff quarter, information center etc.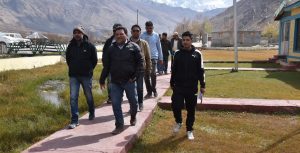 At Damsna, the EC inspected the extension of fish farm. The concerned officials informed the EC about the various plans such as fountain at farm. The EC also inquired about the staff availability. He also stressed to focus of fish farming besides suggested for a proposal for an outlet to supply fish in the market.
EC Shah said there is no dearth of funds and the developmental activities are going at a new pace under the UT Administration.
At Tai Suru, he inspected the PWD Rest House. While underlining the potential, he instructed the concerned officers to prepare DPR for provision of multi-storey building.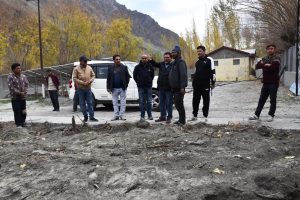 Later, he visited the construction of 20-bedded hospital at GM Pore where he instructed the concerned to follow up the procedure to felicitate electricity and water facilities. He also inspected OPD, causality, wards, female and male ward, doctors' room etc.
While expressing satisfaction over the pace of progress, the EC appreciated the role of the concerned executing agencies and stressed them to work with continued zeal to ensure the completion of remaining works within the set timelines.
During the tour, he was dissatisfied over JJM works in Sankoo and instructed the concerned officers to speed up the works on priority basis.