RKS meeting held at CHC Sankoo 
KARGIL, 18 OCTOBER 2022:
Rogi Kaliyan Simithi Health and Hospital Development Fund (HDF) meeting was held today at Community Health Center Sankoo. The meeting was held under the chairmanship of Councillor Sankoo, Aga Syed Ahmad Rizvi, who is also the chairman of RSK.
On the occasion Chief Medical Officer Kargil/Vice Chairman RKS, Dr Munwwar Hussain Wazir, Block Medical Officer Sankoo Dr Gulam Hussain (Member secretary), Medical Officer CHC Sankoo (Member Secretary), Program Officer ICDS (CDPI) Sankoo (Member), Assistant Executive Engineer R&B Suru Valley Division Sankoo (Member) Assistant Executive Engineer PHE SVD Sankoo (Member), Zonal Education Officer Sankoo (Member) Block Development Officer Sankoo participated in the meeting.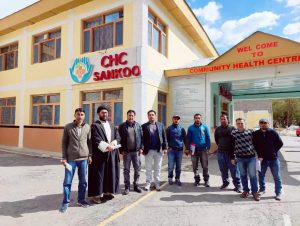 The BMO addressed the participants and presented the agenda. He also briefed about RKS and HDF which were received from the competent authority in procedure for utilization of the fund.
A panel discussion was also held in the meeting on each and every aspect. The committee members decided and approved the purchase of equipment and furniture for the hospital under the scheme of RKS of hospital development funds.
Councilor Sankoo accompanied by CMO, BMO inspected the Operation Theatre of the CHC. The meeting concluded with vote of thanks was presented by Dr Ghulam Hussain.