SVEEP awareness program for Special Summary Revision held at Panikhar
Kargil, October 18, 2022: Systematic Voters Education and Electoral Participation (SVEEP) awareness program for Special Summary Revision (SSR) of Photo Electoral Rolls today started with a sensitization program organized by the District SVEEP Team Kargil at Higher Secondary School (HSS) Panikhar.
The program was attended by the Deputy District Election Officer, Nargis Banoo who was the chief guest on the occasion. Principal HSS Panikhar Muhammad Naqi, district SVEEP Nodal Officer Ghulam Rasool, Naib Tehsildar Abdul Samad, BDC Chairpersons, public representatives, voters, staff and students of HSS, Sarpanchs, Panchs, BLOs were present on the occasion.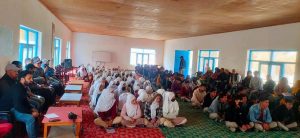 While speaking on the occasion, Bano stressed on active participation of all concerned in the SSR process. She said every person eligible for voting shall register their name through BLOs and also on the website www.nvsp.in.
She briefed about the importance and need of elections in the country. She said to help every single citizen of country there is a need of governing system due to which elections are held.
The DDEO instructed newly appointed BLOs to get training for new elections and said their work in election process will be off the duty. She thanked all the participants and extended good wishes especially to students of HSS Panikhar.
In his address, Naib Tehsildar Tai Suru gave details regarding SSR and urged the participants to disseminate information to the general public.
The Principal HSS Panikhar briefed about the importance of elections in a democratic set up. He also talked about the history and origin of democracy in India.
The program began with welcome and introductory address by District Nodal Officer of Electoral Literacy Club. He imparted necessary information on ELC and the importance of ELC in schools for the students. In the end District Nodal Officer SVEEP presented vote of thanks to all participants.