EC Naqvi chairs meeting of block-level officers in Drass
Visits SDH Drass, reviews its functioning
Kargil, Feb 14, 2023: Executive Councilor, PWD (R&B), FCS&CA, Industries and Commerce, LAHDC, Kargil, Mubarak Shah Naqvi today visited Drass and chaired a meeting of block level officers to discuss several issues.
Incharge SDM Drass, Asger Ali, BDCs, BDO Drass, Incharge BMO, Dr Fareeda, ZEO, ZEPO, JEs, besides other officers of the block, Sarpanchs, Panchs attended the meeting.
At the outset, the EC took a detailed review from concerned officers regarding the progress of developmental work in various villages of the sub-division.
EC Naqvi said the Mechanical Division works with zeal in terms of snow clearance adding that there is need of public support for the works to be done in the future. He instructed officers and people of Drass to be patient and assured them for every possible help.
On the occasion, the EC directed the concerned officer to work with coordination so that the problems faced by the public due to heavy snowfall are eased.
BDC Bhimbat Najma Bano informed the EC about lack of machinery under PMGSY which affects the pace of snow clearance works to which the EC Naqvi assured that the matter will be resolved on priority.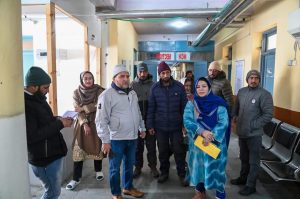 The meeting discussed winter sports activities in Drass and distribution of snowshoe to players. It also discussed that funds will be provided for training of young players for winter sports.
Regarding cattle feed distribution the EC said the distribution must be impartial and directed the officers to start it from tomorrow. He also directed the concerned officers to distribute the cattle feed in drought-affected areas.
In his address, BDO Drass said there is a need of physical participation while performing any developmental work. He said in order to furnish the Gram Panchayat Development Plan (GPDP) plans for the year 2023-24, it needs to be uploaded on the GPDP portal.
Earlier, the EC Naqvi also visited Sub District Hospital Drass and reviewed its functioning and its overall renovation work. He also interacted with patients and expressed satisfaction over the facilities and services being provided in the hospital and appreciated the efforts of healthcare workers.
On the occasion, incharge BMO informed EC Naqvi about the services and facilities being provided to the patients in the hospital. She said all the wards are functioning smoothly and requested for more medical staff that are needed in the hospital.
In the end, the concerned block-level officers requested the EC for the construction of offices for employees belonging to far-off areas, so that they stay in the sub-division with ease and remain available for the services.