EC Phunsok Tashi inaugurates All India Painting Camp, National Art Exhibition, 2021 in Kargil
KARGIL, OCTOBER 02, 2021: Executive Councilor for Tourism and Zanskar Affairs Er Phunsok Tashi inaugurated All India Painting Camp and National Art Exhibition, 2021 at Tourist Facilitation Center (TFC) Biamathang here today.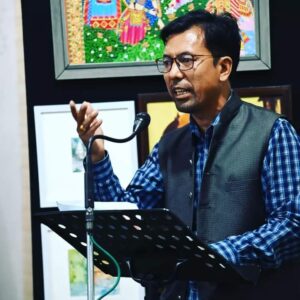 Chief Electoral Officer J&K and Ladakh UT Hridesh Kumar, Deputy Commissioner and CEO, LAHDC, Kargil Santosh Sukhadeve, Nominated Councilor Padma Dorjay, President Spandan Global Art and Cultural Foundation, Goa Anant Vikas, Deputy Secretary Culture Kargil Nazir Hussain, Special Officer for Cultural Activities Kargil Muhammmad Ali Tak besides other concerned officers were present on the occasion.
The painting camp and art exhibition has been organized by the District Administration Kargil and Ladakh Academy of Art, Culture and Languages (LAACL), Kargil in collaboration with Spandan Global Art and Cultural Foundation, Goa in which more than 30 artists from different parts of the country including artists from Leh and Kargil districts are participating.
Speaking on the occasion, EC Phunsok Tashi hailed the efforts of the District Administration Kargil, LAACL, Kargil and Spandan Global Art and Cultural Foundation, Goa for organizing the camp and exhibition in Kargil. He expressed optimism that the 5 day long programme will prove an ideal platform for the painters from different parts of the country to showcase their fresh art work and exchange of artistic ideas.
The EC Tourism also said that different theoretical and practical sessions during the camp will prove helpful to the budding artists to learn from the experience of the senior artists to bring improvement in their art work. He assured that the LAHDC Kargil is committed to extend all out support for conduct of such fruitful workshops in the district.
President Spandan Global Art and Cultural Foundation, Goa Anant Vikas in his address expressed gratitude to the local administration for facilitating the camp. He also spoke about the initiatives of Spandan towards the encouragement of artists through such events and said that around 10 artists from Ladakh will be given opportunity to participate in a national level event at Mumbai in December this year.
Meanwhile, EC Phunsok Tashi, CEO Hridesh Kumar and Deputy Commissioner Kargil Santosh Sukhadeve inspected different art works of the participants on display in the art exhibition and appreciated their creative work.
Earlier, during the welcome speech Deputy Secretary Culture Nazir Hussain extended warm welcome to the dignitaries and the artists for their participation in the inaugural event.
Artists of Ranthag Theatre Group and Mendoq Tsar Band mesmerized the audience through their play titled An Artist's Struggle and Balti folk songs.
Noted scholar, historian and cultural activist Ajaz Hussain Munshi conducted the proceedings of the programme, while Special Officer for Cultural Activities Kargil Muhammmad Ali Tak delivered the vote of thanks at the end.
Pertinently, different activities to be held during the 5 day camp and exhibition include Interaction on Himalayan Contemporary Art, Nourish Your Body and Soul with Yoga, A salute to the Indian Army- Get Together of Army and Civilians, Fluid Art Workshop for Army Personnel, Spandan Child Artists' Day Celebration- Drawing Workshops for School Children, Launching of Special Edition of Spandan Art Beat on J&K and Ladakh and Incredible Kargil Sight Seeing.