EC Syed Abbas tours Barsoo area
Takes stock of status of on-going community classes, inspects developmental works, interacts with locals to know their grievances, issues
KARGIL, JUNE 16, 2021
During his extensive tour of Barsoo Block today, Executive Councillor for Works Aga Syed Abass Razvi inspected community classes, took stock of various ongoing developmental works and interacted with the local people to know about their issues, grievances and developmental needs.
Councillor Barsoo Sheikh Ghulam Muhammad Ansari, Councilor Thasgam Abdul Rahim, Executive Engineer SVD Sankoo Shabir Hussain, Block Development Officer (BDO) Sankoo, Tehsildar Sankoo, ZEO Sankoo, engineers of SVD and I&FC besides other concerned officers accompanied the EC during the visit.
EC Aga Syed Abass visited various locations of the ongoing community classes at Thasgam, Karchey Khar, Styangkung and adjoining villages.
While expressing satisfaction over the successful conduct of the community classes, the EC appreciated the villagers, volunteers, teachers, local representatives and PRI members for their proactive participation in the smooth and successful implementation of the concept of community based learning.
EC Syed Abbas urged the local community members, teachers and volunteers to run the classes with continued zeal and zest to benefit the student community. He also interacted with the students and inquired about the ongoing classes.
To know about the issues, developmental needs and grievances of the inhabitants, the EC Works interacted with the locals at Karchey Khar, Thasgam, Styangkung, Tikat, Shargandi, Lalung, Thasgam and adjoining villages.
The locals projected a number of demands and developmental needs which mainly included the up-gradation of schools, installation of mobile towers, filling up of the vacant posts of teachers, construction of footpaths and foot bridges, construction of motorable bridges and protection bunds besides other related demands.
Among other issues the locals raised the issue of link road to Karchey Khar to which the EC directed the Tehsildar Sankoo to take appropriate measures to resolve the land issue on priority basis.
EC Syed Abbas gave a patient hearing to all demands raised by the locals and assured that appropriate steps will be taken to resolve them in a phased manner.
As regards to the water scarcity issue at Lalung Thasgam, the EC assured that a lift irrigation plant will be soon installed to augment water supply to the village.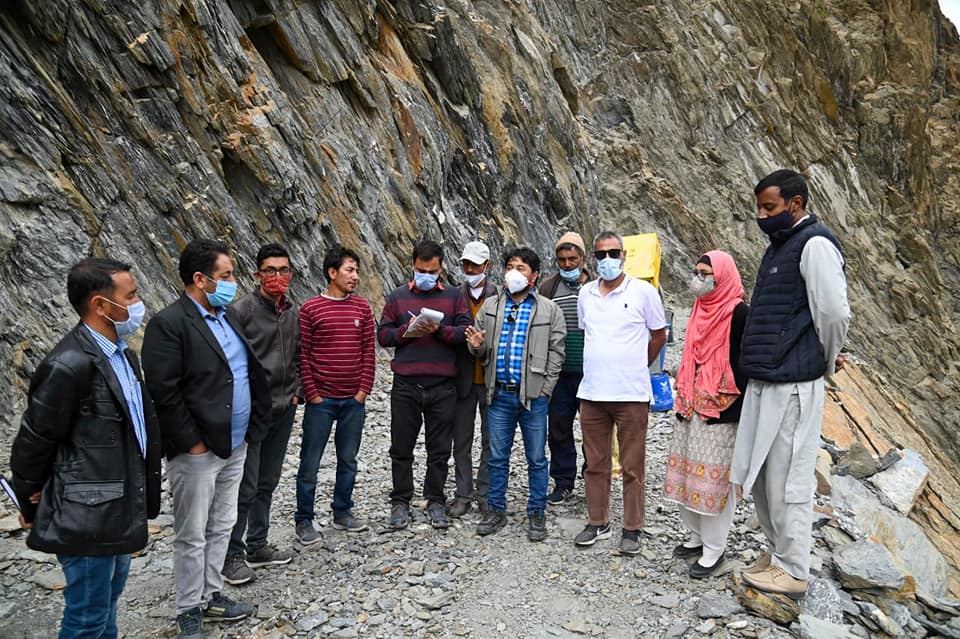 Later, EC Syed Abbas also inspected the on-ongoing construction works of the library room at Government High School Tikat. He also inspected the ongoing construction works of the Shargandi-Itchu Link Road where the concerned officers informed that out of the 10 km road stretch, around 3.67 km has been completed while the remaining portion will be completed during the current working season.