EC Syed Arman takes stock of restoration of essential services, extent of damages in  TSG Block post recent untimely snowfall
KARGIL, OCTOBER 30, 2021: On the directions of the Chairman and Chief Executive Councillor,LAHDC,Kargil Feroz Ahmad Khan, Executive Councillor for Horticulture Aga Syed Hassan Armaan Mosavi visited TSG Block to take stock of the ongoing works on restoration of essential services after the recent untimely snowfall.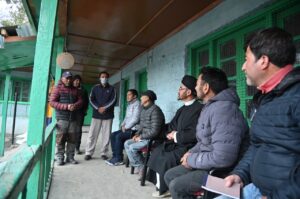 The EC was accompanied by the Councillor Trespone Aga Syed Mujtaba, Councilor Tambis Aga Syed Mehdi, Chief Horticulture Officer Ali Raza, Chief Agriculture Officer Kacho Muhammad Ali Khan, Chief Animal Husbandry Officer Dr Muhammad Ismail, BDC Chairperson Haji Tahir Hussain, BDO Asgar Ali, Nambardars, PRI members officers, officials of PDD, PHE, Forest, Revenue and other concerned officers.
During the course of the visit, the Executive Councilor met public delegations at Trespone, Kanoor, Tambis, GM Pore, Saliskote, Faroona, Khachan and adjoining villages to take first hand appraisal of their issues and grievances in the aftermath of the snowfall situation.
The Executive Councillor enquired from the public representatives, district officers and the locals about the ongoing restoration works being executed in the area. He also took stock of damages caused to apricot and apple trees, timber wood trees, electricity supply, road connectivity and water supply.
EC Syed Arman informed the public that detailed estimation of the losses caused in different sectors is being made presently by the teams constituted by the administration, adding he assured that the LAHDC Administration is taking all requisite measures to compensate the losses and issues related to provision of funds will also be taken up with the UT Administration. He said that the teams will submit reports of their respective departments to the LAHDC Kargil in a week's time.
At Trespone, the locals demanded to relocate electric HT poles on other side of the road to avoid touching of electric lines with trees as the road is under realignment process by the NHIDCL. The PDD representative assured to take up the issue with NHIDCL.
At Saliskote, while discussing the water issues, the EC informed people that under JJM scheme water pipeline will be provided to every household and the process will cover the villages soon.
Meanwhile, the district officers appraised the Executive Councillor about the pace of progress being made by their respective departments with regard to restoration works and assessment being made post the snowfall situation.
The public representatives appreciated the move of the administration and thanked the EC and other district officers for the visit.