EC Syed Mehdi Fazili reviews progress of snow clearance work, status of basic amenities in Barsoo Block
Kargil, Feb 16, 2023: Executive Councilor, Horticulture, Social Welfare, Handloom, Animal and Sheep Husbandry Department, LAHDC, Kargil, Aga Syed Mehdi Fazil today took stock of progress of snow clearance work and status of basic amenities in Barsoo Block.
During the tour, he was accompanied by Councilor Sheikh Ghulam Mohammad Ansari, PRI members, Mohd Ibrahim Naib Sarpanch, Zahrah Banoo Panch, Mohd Issa Panch, Ahmad Hussain Panch, Mohd Ibrahim Panch, Anwar Hussian Panch and local residents of the concerned village.
The EC visited Bartoo village. The residents requested for restoration of drinking water, start of JJM works, distribution of breeding Yak, repairing of hand pump, installation of new hand pumps, filling up of vacant post of teacher at High School Bartoo and sanction of water tanker etc.
EC Fazili also visited Shargandik village. The PRI members of Shargandik, Skinkarchay and Gongma Khasho village requested for construction of a temporary road, especially for winter at Khasgangchay Bartoo, sanction of 4×4 Gypsy Ambulance for Itchoo village and early restoration of drinking water at Skinkarchey and Gongma Khashow.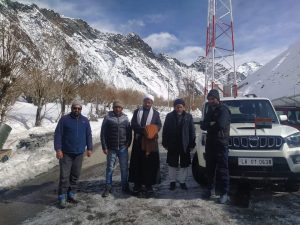 He also visited Pangbar, Panbarbrok and Yarkashing. The PRI members requested for early clearance of debris from main irrigation khul Yarkashing, breast wall of link road Bartoo to Yarkashing, installation of mobile tower, separate loan facilities from Animal Husbandry Department to Barsoo block, distribution of fodder, breeding Yak, breeding Ram and connection of Sapi road through Yarkashing village.
The Councilor, PRI members of the above concerned villages thanked EC Fazili for visiting the areas. Later, the CEC assured the locals that he will take up the issue with the Chairman/CEC, LAHDC, Kargil, Feroz Ahmad Khan for proper redressal.