EC Tashi expresses gratitude to team of HDFC Bank Parivartan for providing AC based Solar Microgrids, homestays, solar water heaters at Zanskar
Kargil, Feb 17, 2023: On behalf of villagers of Zanskar Sub Division, Executive Councilor, RDD, Tourism and Zanskar Affairs, LAHDC Kargil, Er Punchok Tashi today expressed gratitude to the team of HDFC Bank Parivartan for providing AC based Solar Microgrids and electrification to 105 Households in Lungnak Zanskar. The HDFC Bank has also provided Homestays and Solar Water Heaters to several households at Zanskar.
EC Tashi said these villages are located in the remote regions within Zanskar and are very difficult to access due to snowfall and poor connectivity.
He said further during the winter months, the villages are cut off and the only way to access them is through a trek. The EC said the villages have limited access to development, proper health care, and electricity as these are in harsh and remote areas.
"Through the HDFC Bank Parivartan project, we have seen 105 of the remote households have received AC Based Solar Grids which has truly transformed the lives of the local communities. Further, the homestay setup will enable the communities to earn income through the increased tourism in the region," the EC said.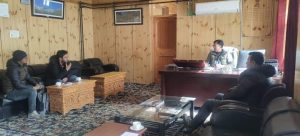 He also said that the solar water heaters have enabled several villagers to eliminate use of fossil fuel and switch to clean energy for heating of water.
EC Tashi said CSR initiatives taken by companies like HDFC Bank Parivartan will go a long way in serving the needs of the most deserving communities and ensure that they become climate resilient through the deployment of sustainable solutions.
"Thank you for your support and we appreciate your partnership with barefoot and GHE to provide development access to remote far-flung communities of the region," he said.
"There are many more such villages and your continued intervention in Zanskar will go a long way in providing sustainable development to the village communities, empowering them to scale up the poverty ladder through access to technology," the EC added.
He also said the project will involve providing Solar Grids to 250 Households in total over the next two years.
The EC requested HDFC Bank to open a branch in Padum Zanskar given the increased population and the ever-increasing number of travelers visiting the region each year. "I truly support your work in Kargil and Zanskar region and looking forward to see more such initiatives," the EC said.