Financial Crime Unit Kargil organizes awareness program on "SATARKTA HI BACHAV" at Kargil
Kargil, Dec 20, 2022:
Financial Crime Unit Kargil, Ladakh in collaboration with Ladakh Tribal Foundation today organized one-day awareness program titled "SATARKTA HI BACHAV" at Auditorium Hall to spread awareness about cyber-crimes in today's digital era.
Incharge Financial Crime Unit Kargil Shamim Ahmad, Sub-Inspector, Cyber unit Kargil Stanzin Zangpo, President Employees Joint Action Committee, Kargil Mukhtar Khan, students, media persons participated in the program.
While addressing the gathering, Shamim Ahmad thanked Ladakh Tribal Foundation for showing keen interest in organizing the program for the benefit of the common masses and informed them about the Financial Crime Unit Kargil.
Shamim informed the participants about corruption, effects, its consequences and also focused on the steps being taken by the Govt. of India to stop corruption.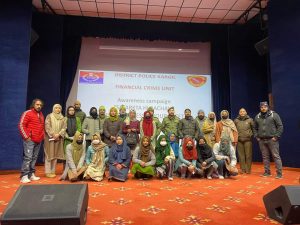 Stanzin Zangpo presented a comprehensive presentation on various facets of cyber-crimes in the digital world. He cautioned participants about prospective cyber risks involved on social media platforms, online financial transactions, etc.
Zangpo shared various anecdotes related to cyber-crimes in Ladakh and advised all to keep greed, lust and fear under strict control in today's materialistic world.
Later, EJAC President thanked Financial Crime Unit Kargil for organizing such an awareness program and hoped to organize such a program in close coordination in the future as well.
The program culminated with a formal vote of thanks by Sub Inspector Chuskit Angmo. The program was presided over by Chairman Ladakh Tribal Foundation Khadim Hussain.