GDC Drass celebrates International Week of Deaf
KARGIL, SEPTEMBER 22, 2022:
Government Degree College, Drass today celebrated International Week of the Deaf (IWD) 2022, with a session on sensitization of students towards the specially-abled persons.
Dr Azram Tahoor, Assistant Professor EVS, gave the introduction of the program.
Kaneez Fatima, Librarian, delivered a talk on special provisions made for specially-abled persons in libraries and emphasized on how special libraries are made for such people. She advised students to give equal respect to specially-abled persons while they visit libraries.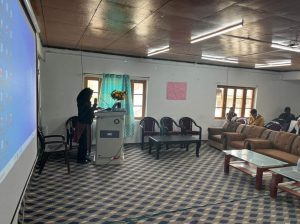 Shabir Hussain, Assistant Professor, Commerce presented a talk on legal aspect of specially-abled persons with a summary of Rights of Persons with Disabilities Act, 2016.
He stressed how the Act law is providing all the provisions for a disable person in order to bring them at par with others.
Haider Ali Askary, Assistant Professor, Sociology sensitized students about treating specially-abled people with empathy and compassion. Dr Mumtaz Ahmad in-charge principal thanked all the faculty members and students for being part of the session.