Sankoo Campus GDC Kargil celebrates IWD, Indian Sign Language Day
KARGIL, SEPTEMBER 22, 2022:
Sankoo Campus GDC Kargil today celebrated International Week of the Deaf (IWD) and Indian Sign Language Day under the aegis of Azadi Ka Amrit Mahotsav.
The program started on September 21. On the first day, teachers, and students discussed the issues faced by specially-abled persons and ethical steps to communicate with them.
Today, a program was conducted in the conference hall of the campus which started with screening of the National Anthem in Indian Sign Language. All the faculty members and students participated in singing the National Anthem with corresponding sign language.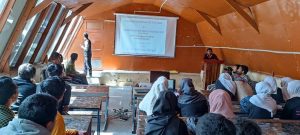 The students were also educated about the basic signs of the alphabets which are needed to communicate and educate the deaf people.
On the occasion, Dr Abid Hussain, Vice Principal spoke about the importance of this day and urged students to learn such sign language to understand the feelings of deaf people.
Prof. Manzoor Ahmed Bhat, Assistant Professor, EVS said such people should always be called as specially-abled persons as they possess special qualities. Prof. Nasir-Ud-Din Khafi presented vote of thanks to all the participants.