GDC Drass observes Vigilance Awareness Week, employees take integrity pledge
Kargil, November 05, 2022: Government Degree College Drass today observed Vigilance Awareness Week during which the employees took the integrity pledge.
On the occasion, Haider Ali Askary, Assistant Professor Sociology briefed about the Vigilance Awareness Week and activities to be conducted by the college for the same.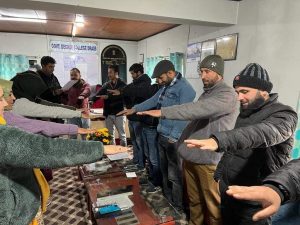 Mohd Ali Shabir, Assistant Professor, English spoke about the theme of Vigilance Awareness Week "Corruption Free India for a developed Nation". He sensitized the employees about being vigilant and follow the integrity pledge in letter and spirit.
It was followed by taking the integrity pledge in which all the teaching and non-teaching staff of the college were present.