GMDC Zanskar celebrates International Day of Sign Languages
KARGIL, SEPTEMBER 22, 2022: Government Model Degree College, Zanskar today celebrated the International Day of Sign Languages.
The program started with the welcome of guest Lobzang Stanzin with traditional Khatak presented by Principal Nasir Shabani. Although Stanzin is a deaf and dumb, but he is living a dignified life with utmost satisfaction.
He uses sign language in his daily life affairs. Stanzin shared his experiences with sign language which was decoded by Dr Jamphell Shayam, Assistant Professor English.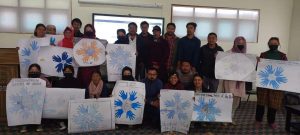 At the beginning, Stazin Dadul Assistant Professor delivered a lecture on the causes of deafness and the various solutions in the form of hearing aids and cochlear implant.
He also mentioned that signs language is as good as any other language adding that animals also communicate through sound which is also a language.
In his speech, Shabani stressed to respect and understand the specially-abled persons and said that they are bestowed with excellent abilities to overcome other physical deficiencies.
A movie on sign language was also screened on the occasion. A painting competition was also conducted among students of the college and first three position holders were awarded.
International Day of Sign Languages is celebrated annually across the world on 23 September along with International Week of the Deaf.