Health and Medical Education Department under Pradhan Mantri TB Mukt Bharat Abhiyaan, organized meeting with the Ni-Kshay Mitras of Leh District for providing Community Support to TB Patients at Conference Hall, LAHDC Leh today.
This Abhiyan aims to ensure linkage of all TB patients on Treatment with a Ni-Kshay Mitra for providing community support.
Hon'ble Chief Executive Councilor, LAHDC, Leh, Advocate Tashi Gyaltson felicitated the Ni-Kshay Mitras with traditional Khataq and Certificates. He extended gratitude to the donors for their selfless contribution to the patients with TB.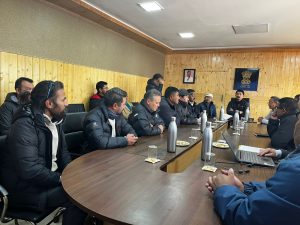 He further stated that Community involvement is a must to eliminate diseases like TB from our district.
CEC extended his support to 3 patients and enrolled himself as a Ni-Kshay Mitra.
Dr. Motup Dorjay, Director Health Services, Dr Norzin Angmo, CMO Leh, Dr Iqbal Ahmad, DTO Leh, Mrs. Deachen Spalzes SPO, NTEP, Ladakh, besides individual donors Dr Deskit Dolma DIO, Ghulam Nabi Zargar, Diskit Dolma, Skarma Phuntsog Yountan, Fayaz Ahmed, different Non Governmental organizations like All Leh Hotel Association
All Leh merchant Association
All chemist Association Leh
Rogs Society Leh,
All Leh Motorcycle Association and
All Leh Tempo Association we're present on the occasion