Awareness camp on menstrual health, hygiene held at CHC Sankoo
Kargil, Nov 16, 2022: Baqirya Health Care & Research Centre Kargil (BHC&RC) in collaboration with Block Medical Officer Sankoo and Shoqpa Foundation today organized an awareness program on menstrual health and hygiene management at Community Health Center Sankoo.
On the occasion Block Medical Officer, CHC, Sankoo Dr Ghulam Hussain, Dr Zahida Banoo Block Medical Officer Shargole, Dr Zarina Banoo Medical Officer of District Hospital Kargil, Dr Nasreen Fatima gynaecologist CHC Sankoo, Syeda Banoo Senior OT Assistant DHK, Shoqpa Founder Khushboo Joshi, girl students of Govt. Higher Secondary School Sankoo were imparted awareness on issues related to menstrual health and hygiene besides female staff of CHC Sankoo were also present.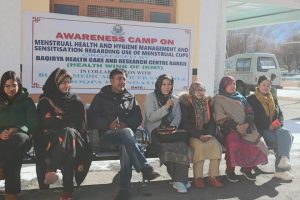 The program was aimed to sensitize the girls on menstrual hygiene and how to ensure the safe disposal of sanitary pads.
The students were sensitized in detail about various ways to manage periods effectively and to maintain proper hygiene. They were also sensitized about how to remove misconceptions about periods. They were also informed about how they can seek help in case they face any health issues related to menstruation.
During the awareness program Dr Nasreen, who is also vice president of BHC&RC, in her presentation emphasized on the importance of menstrual hygiene.
While speaking on the occasion, Dr Zahida highlighted the importance of good menstrual hygiene and spoke about the social issues faced by women during menstruation.
Shoqpa Founder Khushboo Joshi also highlighted menstrual hygiene and gender equality issues. The team also distributed supplements and sanitary pads among the participants.
Later, Dr Nasreen thanked the volunteers of BHC&RC Kargil, BMO Sankoo and Shoqpa foundation, staff of the CHC and girls students of GHSS Sankoo for their support and cooperation in organizing the event.