IGNOU Regional Centre Srinagar organizes pre-admission counseling camp at GDC Kargil
KARGIL, SEPTEMBER 17, 2022: IGNOU Regional Centre Srinagar in collaboration with GDC Kargil today held one-day Pre-Admission Counseling Camp today at GDC Kargil.
Executive Councilor, Social Welfare and Animal Husbandry, LAHDC Kargil, Syed Mehdi Fazili was the chief guest while Dr Shahnawaz Ahmad Dar, Director IGNOU Regional Centre Srinagar was the guest of honour and the lead resource person on the occasion.
Principals and headmasters of various higher secondary and secondary schools and students were also present on the occasion.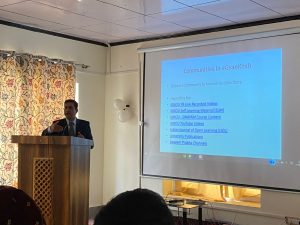 The EC threw light on the importance of education and appreciated Director IGNOU Regional Centre Srinagar and Principal GDC Kargil for conducting the camp.
He said the IGNOU is doing great work by delivering education at doorsteps and offering courses from certificate to doctorate and postdoctoral. He also urged students to take advantage of such opportunities.
Principal GDC Kargil welcomed the guest and highlighted the objectives of the event. He also informed about the courses offered by IGNOU Study Center Kargil which is being run from GDC Kargil.
Lead resource person Dr Shahnawaz gave a detailed presentation about IGNOU and the plethora of courses and programs offered by the varsity in general and Regional Center Srinagar in particular.
Later, a question-answer session was also held in which faculty members and students put forth their questions to which Dr Shahnawaz responded with satisfaction.
The program proceedings were conducted by Assistant Professor, Sajjad Hussain.