India Post dedicates special cover on apricot
KARGIL, OCTOBER 13, 2022:
The National Postal Week celebrations organized by the India Post from October 09 concluded today at Conference Hall Kargil.
The government-operated postal system in India, part of the Department of Post under the Ministry of Communications, has dedicated a special cover for apricot.
During the occasion, Chief Postmaster General J&K Circle, Niraj Kumar released a special cover on apricot which is "ONE DISTRICT ONE PRODUCT" of Kargil District.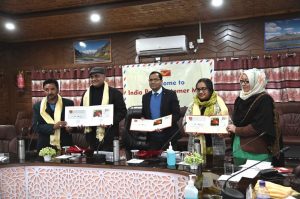 Kumar informed that by releasing the special cover, apricot will be given publicity not only in Ladakh and J&K UTs, but also at the national level and India Post is ready for booking and speedy delivery of parcels containing apricot picture anywhere in India.
He further informed that dedicated vehicles ply between Leh to Srinagar and vice versa through the newly introduced Road Transport Network (RTN) service and further RTN service is available from Srinagar to Jammu and Jammu to Delhi.
In this way, India Post is ready with a well-connected transmission service for the speedy delivery of mails including parcels.
Chief Horticulture Officer, Kargil Ali Raza Khan appreciated the move and expressed his gratitude on behalf of the department for choosing apricot as cover. Furthermore, he informed about apricot production in the district.
Officers/officials from Ladakh Postal Division and many customers participated in the event.