Leh, June 21: Ladakh Academy of Arts and Culture (LAACL), Leh in collaboration with Chief Education Officer, Education Department, Leh is organising Children Theater Workshop in 11 selected schools from Leh district in guidance with the Theater Consultants which commenced from June 18.
The 11 selected schools in which the Children Theatre Workshop commenced are Boys Higher Secondary School Leh, Girls Higher Secondary School Leh, Higher Secondary School Chuchot, High School Chumathang, High School Sakti, High School Thiksey, High School Housing Colony, Islamia Public School, Druk Padma Karpo School, Mahabodhi Residential School and Lamdon Model Senior Secondary School.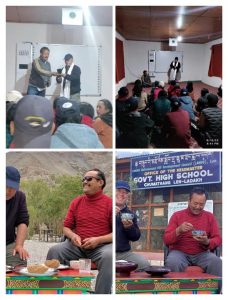 The participants of the workshop will participate in the upcoming Children Theater Festival to be held from July 4 to 16.
Deputy Secretary, LAACL Leh said the purpose of the workshop is to prepare a play to be staged during the Children Theatre Festival and has a higher objective of finding suitable ways to introduce theater in the education system in Ladakh.
The entire Children Theatre Festival would be supervised by Deputy Chairman, LAHDC Leh, Tsering Angchuk. The education department has deputed Chetan Angchuk and Sonam Yangchan to LAACL Leh till the completion of the CTF.