LAHDC Leh launches Digi-Lab project in schools of Leh district 
Nov 10: Chairman/CEC, Adv. Tashi Gyalson, today launched the Digi-Lab project under the Digital Learning scheme of LAHDC Leh in the presence of Dy Chairman/EC Education, Tsering Angchuk; Executive Councillors, DC/CEO LAHDC Leh, Councillors, BDC Chairpersons, CEO Leh, DGM HR SECI and Founder of 17000ft Foundation.
Students, teachers, and village representatives from different government schools of Leh district virtually attended the event. Various other guests, including officials of the School Education Department Leh, parents and students of nearby schools, attended the inaugural function held at Paras Hall, GBHSS Leh.
CEC, Dy Chairman, Executive Councillors, Councillors and DC Leh interacted with the school students virtually and congratulated them on the installation of the Digi-Labs at their schools. Sudents, teachers and parents expressed their gratitude to the Hill Council Leh for the initiative and the supporters for successfully establishing Digi-Labs in the government schools.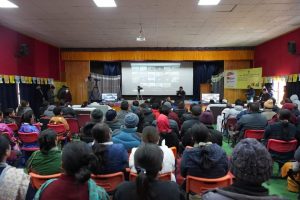 CEC Tashi Gyalson highlighted the vision of LAHDC Leh to digitise govt-run schools of Leh district by providing digital technologies. He urged the students to utilise these technologies for learning new methods. He extended gratitude to the supporters from Solar Energy Corporation of India and the implementing partner 17000ft Foundation for their assistance in executing the project. He also lauded the efforts of Dy Chairman/EC Education and DC Leh for their tireless efforts in strengthening the school education sector of the district.
Dy Chairman Tsering Angchuk highlighted the importance of equipping the schools digitally, especially in remote areas. He stressed the need for personality development and sharing of knowledge at the school level. He highlighted various initiatives the vision of taken by Hill Council Leh in strengthening the school education sector. He added that efforts have been made to encourage councilors to adopt 27 govt schools from different constituencies to improve their standard. This, he said, would facilitate to extend different schemes in the future and reach out to more schools of the district.
DC Leh Shrikant Suse and DGM HR SECI Kaushik Bhar also addressed the gathering and appreciated the efforts of the project implementing parties and supporters for their contribution in making the project successful.
Colourful cultural performances were showcased by the students of Govt. Middle School Gonpa and Govt. High School Spituk during the occasion.