Market checking squad inspects Nimoo market
Leh, Feb 01: A market checking squad made a surprise inspection of the general stores, restaurants, vegetables and chicken sellers at the Nimoo market and its surrounding area today.
The inspection squad was headed by Sub Divisional Magistrate (SDM), Likir, Dr Sarwar Shezad and consisted of Tehsil Supply Officer, FCS&CA Department Saspol, Tsering Angdus and concerned officials of FCS&CA department.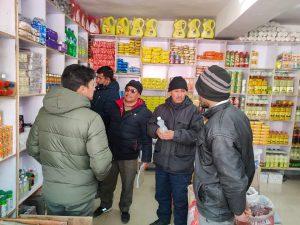 The team seized some expired items and noticed the use of uncommercial cylinders in hotels/restaurants. They also checked the food standards, hygiene and necessary documents.
A total of Rs 3300 fine was collected from the defaulters.