MP Ladakh chairs telecom advisory committee meeting of BSNL in Kargil
Kargil, Dec 02, 2022: Member of Parliament Ladakh (MP), Jamyang Tsering Namgyal today chaired a Telecom Advisory Committee meeting of Bharat Sanchar Nigam Limited (BSNL), Ladakh at Conference Hall Baroo, Kargil.
Telecom Advisory Committee, Executive Councilor, Leh Tashi Namgial Yaqzi, Additional Deputy Commissioner Kargil, Ghulam Mohi-ud-In Wani, Councilor Shargole Constituency, Ali Chandan, Hajj Committee Members, various stakeholders and concerned office bearers of BSNL Ladakh attended the meeting.
During the meeting, the MP was briefed about the undergoing operations and development plans of the BSNL such as landline, leased line, broadband, FTTH, Air Fiber, OLT in Nyoma, Khalsi, satellite media, emphasis on 4G saturation project of the BSNL Ladakh.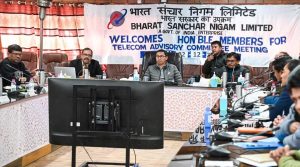 While reviewing the outreach and facilities being provided by BSNL, the MP asked the public sector undertaking to stress on rural telephony with special emphasis on the development of telecommunication facilities in the remote areas such as Zanskar, Barsoo, Mushkoo Valley, Drass, Shahshi Khul, Durbuk, Nubra and other far-flung areas.
The meeting focused to facilitate universal and equitable access to broadband services for growth and development throughout Ladakh with special focus on far-off and rural areas.
MP Namgyal asked to solarize the towers which is also a part of carbon-neutral Ladakh and suggested to include fiber plan of Barsoo in minutes.
Highlighting the difficulties being faced by the public especially students in far-flung areas, he urged the telecom operators to make internet connectivity a top priority in inaccessible areas. The MP directed them to appoint dedicated officers on the ground to address grievances of people.
After a detailed discussion on issues of telecommunication services being provided by BSNL in Ladakh, the committee decided to resolve all minor and major issues of BSNL.
MP Ladakh appreciated the efforts of BSNL and other executing agencies and assured full support for its future endeavors.