ODOP Seabuckthorn to be promoted with full vigour in Ladakh
Apex Committee on Seabuckthorn hold meeting in Ladakh
Leh, December 2: Commissioner/ Secretary, Industries & Commerce Department, Ladakh, Saugat Biswas chaired a meeting of the Apex Committee for the development and Promotion of Sea-buckthorn in UT Ladakh.
At the outset, the concerned officials from the departments of Horticulture, Forest and Industries apprised the Comm/Secy, Biswas about the status of the various Seabuckthorn initiatives; bankable Seabuckthorn projects; geo-mapping and drone mapping for the area under Seabukthorn; quality control labs; timeline for a model orchard of Seabuckthorn plantation to be developed at Chuchot, tissue culture, quality control lab; royalty collection; gully cutting: location identification, among others. The meeting also held deliberations on challenges raised by entrepreneurs.
Biswas urged the concerned officials to ensure that the machinery and different tests that can be performed must benefit the growers and entrepreneurs. He exhorted that sustained capacity building is of utmost importance and instructed to arrange more collaborations with national-level institutions such as NIFTEM, CSIR-IHBT & CFTRI Mysore for skill development. It was informed in the meeting that 26 entrepreneurs/progressive farmers engaged in Food Processing industry were sent to NIFTEM, Kundli in August, 2022 for a 6-day training programme on horticulture processing and various food processing technologies. Further, 20 entrepreneurs were sent to IHBT Palampur in August. 2022 for training programme on food processing & value addition of ODOP products.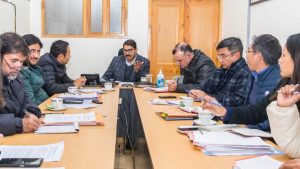 The Comm/ Secy suggested that at least two more cooperatives should be formed by the Department of Cooperatives and instructed the Additional Registrar Cooperatives to monitor it. PMFME team to aid in overall formalizing and financial support, he added. Also, for Model Orchard, the officials were directed to prepare a suitable Action Plan.
The meeting was attended by Secretary, Agriculture, Horticulture and Floriculture Department, Secretary, Cooperative Department; Director, DIHAR; Chief Conservator of Forest; Director, Industries & Commerce Ladakh; Additional Registrar Cooperatives; Director Horticulture Ladakh; Convenor UT Level Bankers Committee SPMU PMFME Team and staffs of I & C dept Ladakh.