Tourism Department Ladakh to Participate in National and International Tourism Marts
Leh, December 02: The Administrative Secretary, Tourism and Culture, Department, Kacho Mehboob Ali Khan chaired a meeting at the Civil Secretariat, Leh regarding the participation of Tourism Department, UT Ladakh in the upcoming Tourism Marts.
In the meeting, the Administrative Secretary shared that the Tourism department Ladakh is planning to participate in various tourism marts in India and abroad during the ensuing winter season. He stated that participation in these marts will not only increase tourism footfall in Ladakh but will also provide a platform for all stakeholders in the tourism and hospitality sector to interact and transact business opportunities with national and international tourism related stakeholders. He urged all the stakeholders to come up quickly with unique promotional videos/pamphlets and other materials required for projecting Ladakh as an exotic tourist destination.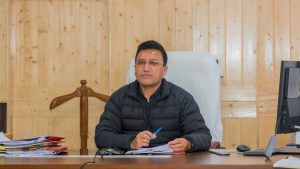 The Administrative Secretary shared that Ladakh can take this opportunity to showcase its hidden destinations, highlight Astro Tourism, religious and heritage tourism, border tourism, adventure tourism, cultural tourism, geo-tourism etc. and project Ladakh as an eco-friendly and sustainable tourist destination.
The Administrative Secretary impressed upon the officials and stakeholders to explore alternate trekking routes for boosting tourism in the remote locations of Ladakh.
The meeting was attended by Director, Tourism Department; Assistant Director Tourism, Leh/Kargil; Under Secretary/OSD, Tourism and Culture Department; Representatives of PMU Ladakh Tourism; President, All Ladakh Tour Operators Association; President, All Kargil Travel Trade Operators Association; President, All Ladakh Hotel and Guest House Association; President, Ladakh Mountaineering Guide Association; President, Kargil Ice and Snow Sports Club and Representative, Himalayan Sports and Cultural Development Association, Drass, Kargil attended the meeting.