Attention!
Diploma/Certificate Courses at #NIELIT #Kargil to commence from 15th Dec 2021.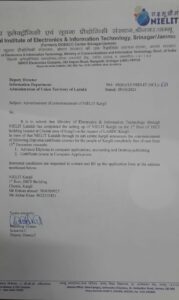 Interested applicants should contact NIELIT Office, Kargil
Commencement of NIELIT Kargil completed, diploma/certificate courses to start free of cost from December 15, 2021 
KARGIL, NOVEMBER 29, 2021
The Ministry of Electronics and Information Technology, Government of India through the National Institute of Electronics and Information Technology (NIELIT) Ladakh has completed the setting up of NIELIT Kargil at Chutuk Area on the request of the Ladakh Autonomous Hill Development Council (LAHDC), Kargil.
Under the NIELIT Ladakh, the ministry has set up the sub-center on the 1st floor of the  DIET Building located at Chutuk Area of Kargil which was the long pending demand of the students.
Now the NIELIT Ladakh through its Sub-Center Kargil has announced the commencement of Advance Diploma Course in Computer Applications and Accounting and Desktop Publishing and Certificate Course in Computer Applications for the people of Kargil completely free of cost from 15th December, 2021 onwards.
In this regard, the interested candidates are requested to contact and fill up the application form at NIELIT Kargil 1st Floor  DIET Building Chutuk, Kargil.
Students can also contact the officials Firdous Ahmad (7006769927) and Akbar Khan (962231545) for further details.