NRMCW concludes 2-day training program on JJM
KARGIL, OCTOBER 13, 2022: Implementation Support Agency-Natural Resource Management and Common Wealth today concluded workshop and training program under the PHE Department, Kargil on Water Quality Monitoring and Surveillance (WQMS) on Jal Jeevan Mission at Conference Hall, Baroo.
The second day of the training program was specifically designed for the women in order to train them to improve the quality of water.
Trainer from Water Quality Monitoring Unit, Kargil Sakeena Banoo and her team gave a detailed presentation on water quality parameters and diseases associated with it. Practical demonstration of testing water by using Field Testing Kits (FTKs) was also shown at the venue.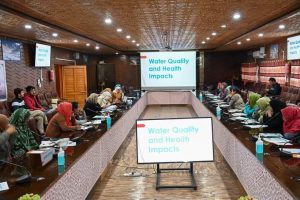 Later, trainer from ISA Hassnain gave a detailed presentation on role of 5-Women User Group in surveillance and monitoring of water sources.
He also detailed about how to educate, inform and communicate people and how to do sanitary inspections in their own villages by the 5-WUG.
Later, online updating of the test results by the 5- Women User Group on JJM, WQMS portal on frequent intervals was also demonstrated.