ADC Kargil chairs meeting of MGNF skill development project
KARGIL, OCTOBER 13, 2022:
Additional Deputy Commissioner, Kargil, Ghulam Mohi-ud-Din Wani today chaired a meeting of Mahatma Gandhi National Fellowship with Skill Development Committee, Kargil in presence of head of different departments for the planning of skill development.
The meeting was attended by Project Officer Wages, District Sheep Husbandry Officer, Chief Agriculture Officer, Chief Horticulture Officer, Chief Animal Husbandry Officer, Assistant Labour Commissioner and other heads from the different departments.
During the meeting, ADC Kargil informed about the Skill Development Project, MGNF, under the Ministry of Skill Development Entrepreneurship in detail. It was informed that the project is aimed for skill development planning and monitoring the training schemes.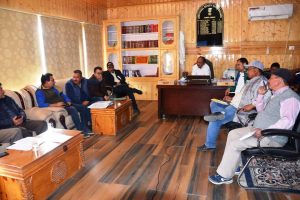 In the meeting, feedback was taken from the heads of their respective departments and they also gave their suggestions.
While evaluating all the information from different departments and from the skill development committee, the ADC directed the committee to take further feedback from different departments, in order to deal with the problems and the difficulties effectively. He further directed the officers to work in coordination with the committee.