Preparations for 3rd Edition of Khelo India Zanskar Winter Sports Festival in Full Swing 
Leh, November 03: The Administrative Secretary of the Sports and Youth Services Department, Ravinder Kumar held a meeting in the presence of the Administrative Secretary of Tourism and Culture, Kacho Mehboob Ali Khan; Deputy Commissioner, Leh, Shrikant Suse; Deputy Commissioner, Kargil, Santosh Sukhadeve; Joint Director, Sports, and Youth Services, Moses Kunzang; Director of Tourism, Kunzes Angmo and other concerned officials to review the preparations at the Civil Secretariat Leh.
In the meeting, Secretary Ravinder Kumar stated that the first ever Khelo India, Zanskar Winter Sports Festival held in January 2021 was a spectacular event and garnered positive responses from the participants and locals alike. As the event could not be organised in 2022 due to the covid pandemic, Ravinder Kumar said this time it should be organised on a larger scale. He impressed upon the officials to incorporate creative, unique, and innovative snow-specific sports and activities in the festival. He said that the ultimate aim is to support the local population and boost the economy.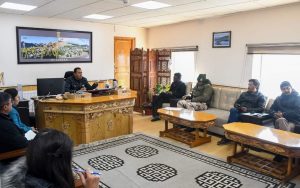 The main features of the winter sports festival will include Skiing, Ice Climbing, Ice Hockey, Ice Skating, Snow Sculpture, Archery, Snow Yak riding, Snow Scooter riding, food festival showcasing the local culinary style among others. Helicopter services will also be available for tourists to attend the festival.
Secretary Ravinder Kumar shared as Zanskar situated at an altitude of 19000 ft provides an exclusive experience and extreme adventure, in the coming years, it will emerge as a sought-after winter destination. Keeping this in mind he said that the administration and stakeholders need to ensure that Zanskar is promoted in a unique way so that there is less pressure on the fragile ecology and resources of the region while on the same hand generating income for the locals.
Detail discussions also took place on the publicity, advertisement, and marketing of the festival and arrangement of winter-friendly accommodations for participants and tourists.
The meeting was also attended by the SDM Zanskar; Deputy Secretary of Culture Academy, Leh/Kargil; Representative from ITBP; President of Ladakh Winter Sports Club, Leh, and the President of All Ladakh Tour Operator Association.