DIET Leh organises five-day training for lab assistants of govt schools
Leh, Nov 03: In a first of its kind, DIET Leh is organising a five-day training programme for the lab assistants of Government Higher Secondary and Government High Schools of Leh district, which commenced today at the Science Lab of Eliezer Joldan Memorial College, Leh.
Professor Samina Iqbal, Principal, EJM College, Leh was the chief guest of the occasion.
This training is being provided to train the lab assistants in effectively handling the lab equipment of different science subjects. Around 40 lab assistants from different government schools are part of the training programme.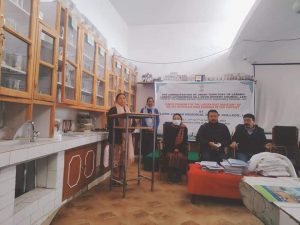 During the event, Principal EJM College distributed lab manuals and lab coats to the participants. DIET Leh developed and released a bilingual lab manual (English/Bhoti) earlier this summer.
Principal DIET, Leh, Tsetan Dorjey, Science faculty members of EJM College and Diet faculty members were also present.