Principal Secy HUDD chairs session on People's Biodiversity Register preparation
Leh, Sept 19: Principal Secretary, Housing and Urban Development Department, UT Ladakh, Sanjeev Khirwar chaired an interactive session on People's Biodiversity Register (PBR) preparation for the urban local bodies of Leh and Kargil district with the concerned stakeholders at the Estate Conference Hall today.
It was informed, that GB Pant National Institute of Himalayan Environment is tasked with the preparation of the People's Biodiversity Register for the areas falling under the Municipal Committee, Leh and Kargil in concurrence with the already established Biodiversity Management Committees.
Highlighting the importance of Biodiversity, the representatives from GB Pant Institute shared the measures and the procedures for preparation of the People's Biodiversity Register in the urban areas of Leh and Kargil in sync with the guidelines and formats issued by the National Biodiversity Authority under the Biodiversity Act.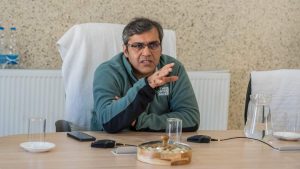 Inquiring the status of PBR for rural areas, Principal Secretary Khirwar was informed that the UNDP under the project SECURE Himalayas has conducted PBR for two rural villages of Hemya and Hanle in the Changthang region.
Principal Secretary directed the concerned agencies to monitor the timelines and ensure that the PBRs are prepared as per the guidelines within the stipulated time frame.
Regarding the suggestions put forward by the members of the Biodiversity Management Committees, Principal Secretary assured to take up the required course of action concerning the matters.
In UT Ladakh, Ladakh Biodiversity Council was constituted in July 2020 and Biodiversity Management Committees are established for 193 villages and the two municipal areas of Leh and Kargil districts.
The People's Biodiversity Register is a framework under the Biodiversity Act to realize the basic documentation of local to national bio-resources for their conservation, protection of Intellectual Property Rights (IPRs) and Access Benefit Sharing to the traditional knowledge through maintenance of PBRs.
President, Municipal Committee Leh, Dr Ishey Namgyal; Councillor, Upper Leh, Stanzin Tsepag; Director, Urban Local Bodies, UT Ladakh, Dr Zahida Bano; Director, Tourism, UT Ladakh, Kunzes Angmo; representatives from Ladakh Pollution Control Committee, UNDP, GB Pant National Institute of Himalayan Environment, Wildlife Conservation and Birds Club of Ladakh, Project Management Unit and other concerned officers from Leh and Kargil attended the meeting.