RD&PRD organizes gender equality week at Conference Hall Kargil
Kargil, Nov 28, 2022: The Rural Development and Panchayat Raj Department (RD&PRD) Kargil today organized a gender equality campaign at Kargil under National Rural Livelihood Mission (NRLM) Gender Campaign.
Director RD&PRD, Tahir Hussain Zubdavi, ACD Kargil Ghulam Mohd, District Panchayat Officer (DPO), Padma Angmo, Block Development Officer, Samina Khatoon, Sarpanches, Panchs, officials of Special Cell for Women Hasina Batool, One Stop Center Administrator, Umul Banin beside Self Help Groups of NRLM attended the program.
On the occasion, the director talked about the importance of gender equality and women empowerment that are essential to achieve Sustainable Development Goals (SDGs) and for a better and healthy society.
The ACD & DPO informed the participants about various schemes of RD&PRD. They also sensitized them about preparation of Village Poverty Reduction Plan (VPRP) to achieve SDG 5 and strive to make villages women-friendly.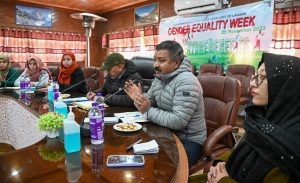 The DPO also directed concerned officials to organize Mahila Sabha to prepare a plan regarding women's welfare and incorporate it in the Gram Panchayat Development Plan (GPDP).
One Stop Centre Administrator, Umul Banin briefed about women's shelter and its services. She discussed various case studies to aware the concept of One Stop Centre for women.
Social Worker Haseena Batool spoke about gender role, consent, challenges and how gender role creates inequality in society and why it needs to be changed. She also talked about emerging issues like blackmailing, harassment, cyberbullying etc.
Later, the Director distributed seed capital amount to various SHGs of different blocks. During the meeting, a resolution was also passed by the SHGs for women reservation in LAHDC, Kargil, opening of Gender Resource Centre in Kargil and establishment of Women Police Station in Kargil.