On 19th November Special Cell for women and children police station kargil organized their 4th awareness cum outreach program in collaboration with Ladakh Police at Govt Higher Secondary School Sankoo.
on the Theme of woman safety and Laws related to it. The program was attended by Incharge Principal Mr yousuf sir and other teaching staff members of the school.
During the program Social worker Miss Hassina Batool aware the Participant about the services of special cell and how survivors can reach at Special cell for women.
During the interactive session social worker presented PPT on gender sensitisation and discussed different roles performed by boys and girls at various places.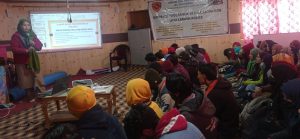 Apart of that social worker also highlighted the issues of cyber crime where most of the modern crimes happen and girls and women are mostly vulnerable to it. Further they also informed the students about Harassment, Stalking, Blackmaling and other issues related to it and its effect on the mental health of the Survivors. They also aware the participants about violence and it's different forms and silence about violence and laws related to it.
During the session social worker also shared different case studies and distributed flyers to the participants.
For request for any kind of guidance and support they can contact at9541902328