SVEEP awareness program for Special Summary Revision held at Sankoo
Kargil, October 22, 2022: District SVEEP Team Kargil today organized an awareness program on Systematic Voters Education and Electoral Participation (SVEEP) for Special Summary Revision (SSR) of Photo Electoral Rolls at Higher Secondary School (HSS) Sankoo.
ACR Abdul Gafar Zargar, Principal HSS Sankoo Tashi Dorjay, Tehsildar/AERO Sajad Hussain, district SVEEP Nodal Officer Ghulam Rasool, BDC Chairpersons, public representatives, voters, staff and students of the HSS, Sarpanchs, Panchs, BLOs attended the program.
While speaking on the occasion, district SVEEP Nodal Officer stressed on the active participation of all concerned in the SSR process. He said every person eligible for vote should register their name through BLOs and also on the website www.nvsp.in.
He briefed about the importance and need of elections in the country. He said in order to help every single citizen of the country there is need of a governing system for which elections are held.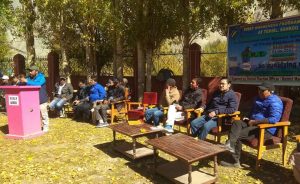 In his address, Naib Tehsildar Sankoo gave details regarding SSR and urged the participants to disseminate information to the general public.
On the occasion, BLOs detailed about the awareness program and informed the audiences that they are always there to help the people.
The Principal HSS Panikhar also briefed about the importance of elections in a democratic setup. He also talked about the history and origin of democracy in India.
On the occasion, teachers also shared valuable information to the students. They talked about the right to vote and Universal Adult Franchise. The teachers also stressed on students to aware their family and neighbours. Students also actively participated in the program.
Earlier, the ACR flagged off the SVEEP Express for the SVEEP team for awareness and sensitization for SSR of photo electoral roll of 2023. In the end, the District Nodal Officer SVEEP presented vote of thanks to all participants.