CEC Feroz Khan inspects new hospital building at Kurbathang
CEC, DC instruct officers for its inauguration on Oct 31
Kargil, October 23, 2022: Chairman/CEC, LAHDC, Kargil Feroz Ahmad Khan Saturday inspected the newly constructed hospital building at Kurbathang in order to shift the existing District Hospital Kargil to the new building.
Executive Councilor Health Mohsin Ali, Executive Councillor Mubarak Shah Naqvi, Deputy Commissioner/CEO, LAHDC, Kargil Santosh Sukhadeve, Director Health Dr Motup Dorjay, CMO Dr Munawar Hussain Wazir, MS DH Kargil Dr Kacho Liyaqat Ali Khan, Executive Engineer Mechanical, Muhammad Hassan, Resident Medical Officer (RMO) Dr Shabir Hussain, Nodal Officers Dr Abbas Ali and Dr Haji Mohd Ali, AEE R&B Mansoor Hussain, JE Mechanical Mohd Jaffar, JE R&B Haji Mohd Hassan and other concerned officials accompanied the CEC during the visit.
CEC and DC directed the health department for shifting of district hospital to 300 bedded hospital at Kurbathang and fixed October 31 as its inauguration.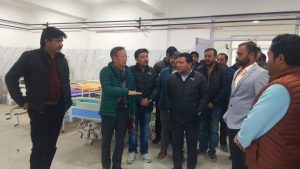 The CEC visited various departments at the new building and inspected its feasibility. The concerned officials apprised him that the right wing of the building is ready for its functioning which can accommodate 100 beds.
The CEC and Deputy Commissioner instructed the concerned officers for necessary leftover modification at the earliest. CEC also directed R&B Department for completion of the elevator and quarters for doctors and staff members before the inauguration date.
Khan also directed the AEE of the concerned department to submit DPR of right and left wing of the new hospital to Director Health Services, UT Ladakh.
The CEC, DC and Director Health Services appreciated the concerned officers of the Heath, R&B, Mechanical and Electrical Departments for timely completion of the new hospital.
Notably, it was informed that as per direction from the Union Government, the district hospital is also enlisted in future medical colleges.