Drugs and Food Control Organization organizes awareness program on drug abuse at GDC Drass
Kargil, October 22, 2022: A team headed by incharge Drug Controller, Drugs and Food Control Organisation, UT Ladakh Mohd Bashir Saturday organized an awareness program at Government Degree College Drass, Kargil.
Chairman Block Development Council Drass, Noor Muhammad, various personalities from civil society, women help groups, Panchayat members, college administration including the Principal Amjad Ali, doctors from SDH Drass, students of AMT School and Govt. Pharmacist participated in the event.
The incharge Drug Controller, Nawang Tsetan Project Coordinator LPMRU, Nazia Kouser, Field Investigator LPMRU, Amjad Ali Principal Degree College were the main speakers.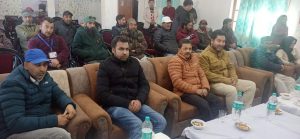 All the participants were urged to follow and spread the information shared to them and act as proactive in prevention of drug abuse /addiction and illicit trafficking among the adolescence/children which has become a great challenge to the society by helping the administration and society as a whole to eradicate the menace of drug addiction.
The program was held in continuation to the campaign with respect to the Centrally Sponsored Scheme "Consumer Awareness, Publicity and Price Monitoring" on medicine and the Medical Devices. All the related information regarding medicines, its price related issues and other necessary points to be lookout while purchasing and consuming medicines and a written advisory circulated among participants and prevention of drug abuse among children/adolescence and illicit trafficking.
The incharge Drug Controller spoke at length on drug addiction and appealed the students not to get indulged in any kind of drugs whether it may be smoking, alcohol or other dangerous forms of drugs.
He said that drug trafficking and trading is a big challenge and most important people should be made aware about the menace. He said together people can make a big difference in controlling and preventing drug addiction.