Kargil, Ladakh
People stage a joint protest over Waseem Rizvi's statement on the Holy Prophet (pbuh).
Protesters raised slogans against Waseem Rizvi after the Zohreen prayers.
Thousands gathered on the stairs of the Jama Masjid in Kargil after Zohreen prayers to protest against Waseem Rizvi, former chairman of the Shia Waqf Board in Uttar Pradesh.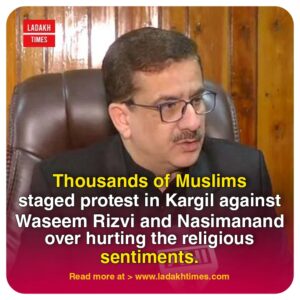 The protest was organised jointly by Anjuman-e-Ahle Sunnat Wal Jamaat, Anjuman-e-Noor Bakhsha and Imam Khomeini Memorial Trust, Kargil.
Protesters and clerics from both Shia and Sunni communities joined the protest at Lal Chowk, Kargil. Demanding his arrest, the protesters shouted slogans calling Waseem Rizvi an "enemy of Islam".
Speakers said Waseem Rizvi is trying to create a rift among the Shia and Sunni communities and distrub the communal harmony of India. Both communities.Speakers said "Such kind of person shall be boycotted from each corner of the society as such people disturb the peace of the community by making derogatory remarks against the holy book," and Holy Prophet (pbuh).
The protest started from Jama Masjid and gone through the main town of Kargil via Khomeini Chowk, Isna Asharia Chowk and finally culminated at Lal Chowk, Kargil.