UoL organises Faculty Development Programme for constituent colleges                                                                     
Leh, Nov 11: Director, College Affairs, University of Ladakh (UoL) organised a one-day Faculty Development Programme (FDP) on 'Strategizing National Educational Policy 2020' for the constituent colleges of the University of Ladakh, including GDC Kargil, GDC Zanskar, GDC Drass, GDC Kargil (Sankoo Campus), GDC Khaltse, GDC Nubra and Eliezer Joldan Memorial College Leh today. The event was organised in continuation with the 1st FDP held at Kargil on October 16. 
Professor Dr. Ashok Kumar Sharma, Registrar, UoL, graced the inaugural session. The FDP was attended by Prof Deskyong Namgyal, Controller of Examination, UoL; Professor Tashi Ldawa; Dr. Sameena Iqbal, Principal EJM College; Professor Nasir Shabani, Principal GDC Zanskar; Prof Stanzin Yangdol, Principal GDC Khaltse; Prof Tsewang Motup, Principal GDC Nubra; Dr. Amjad Ali, Principal GDC Drass.
Senior faculties and staff secretaries of all the colleges also attended the event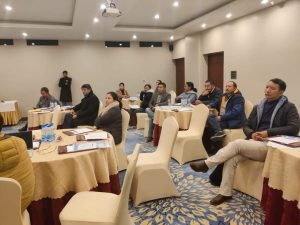 Professor Tashi Ldawa presented the welcome speech and gave a briefing on the aims and objectives of the workshop.
Professor Ashok Kumar Sharma, Registrar UoL, highlighted the different aspects of National Educational Policy. He added that being a new University, UoL has a lot of flexibility in terms of introducing subjects and grouping them according to the needs of NEP. "Our sole purpose is to take the Education system of Ladakh to newer heights and that is only possible if all the stakeholders of the constituent colleges work together", added Prof Sharma.
Prof Deskyong Namgyal gave a detailed presentation on National Education Policy and shed light on credit distribution, syllabus framing, and subject choices for the students under NEP.
Principal, GDC Zanskar, Prof Mohammed Nasirul Mehdi Shabani, presented the vote of thanks.