World Pneumonia Day: SAANS program held in Kargil
Kargil, Nov 12, 2022:
One day orientation program on Social Awareness and Actions to Neutralize Pneumonia Successfully (SAANS) was today organized by Block Medical Officer (BMO) Kargil at training hall CMO Office, Kargil on the occasion of World Pneumonia Day 2022.
Executive Councilor for Health Mohsin Ali was the chief guest while CMO Dr Munawar Hussain was guest of honor. Deputy CMO Dr Muhammad Abbas, DIO Dr Abdul Jaleel, DTO Dr Fatima, BMO, Dr Fatima Nissa, Epidemiologist District Hospital Kargil Dr Jaffar Ali, Medical Officer, Dental Surgeon, Pharmacists, ANMs and para-medical staff attended the program.
On the occasion, EC Mohsin congratulated the whole team for participating in the program and for providing their 100 percent to tackle different diseases including pneumonia.
He said under SAANS, the government is targeting a reduction in pneumonia-caused deaths by 2025 to less than 3 out of 1000 live births. He stressed that similar initiative should be taken by Health Department Kargil so that the infant mortality rate is reduced.
Appreciating the stakeholders for organizing the awareness program, the EC said the health campaign mobilizes people to protect children from pneumonia and train personnel and other stakeholders to provide prioritized treatment to control the disease.
Earlier in his welcome speech the Deputy CMO expressed gratitude to the EC for attending the program. He talked about the initiatives taken by the health department to tackle pneumonia and other diseases.
The Deputy CMO said the aim of the program is to decrease infant mortality rate with the help of health department including ASHA Workers, Anganwadi workers etc.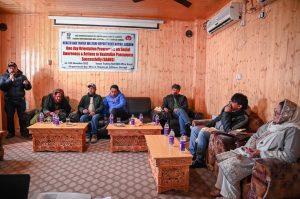 In his address, the CMO talked about importance of the program in tackling pneumonia adding that childhood pneumonia continues to be topmost infectious killer among under-five children.
He said on the occasion of World Pneumonia Day, the aim of all health departments should aim to accelerate the action against childhood pneumonia by generating awareness on protection, prevention and treatment aspects and to enhance early identification and care-seeking behaviors among parents and caregivers.
BMO Dr Fatima thanked the EC Mohsin and other participants of the program and said the SAANS campaign will ensure health system strengthening and community awareness towards childhood pneumonia.
She requested the health department and general public to extend their cooperation to ANMs and ASHAs for early identification of cases of childhood pneumonia and early management of pneumonia in under-five children.
SAANS Initiative was launched on 16th November 2019 to accelerate action to reduce deaths due to Childhood Pneumonia. SAANS Campaign is rolled out in the States/ UTs every year with the aim of accelerating action against Childhood Pneumonia by generating awareness around protect, prevent and treatment aspects of Childhood Pneumonia and to enhance early identification and care-seeking behaviours among parents and caregivers.