Young Artists of Kargil impart artistic skills in govt. schools
Kargil, Dec 15, 2022:
Young Artists of Kargil, Ladakh, a group of young girls, in collaboration with District Administration Kargil and Education Department Kargil successfully imparted multi-disciplinary art and craft forms in various government schools in the district.
The artist group with great zeal and determination worked, taught and displayed their artistic skills for enhancing and developing skills of students in different forms of arts and craft at various government schools in Kargil from Nov 30 to Dec 15.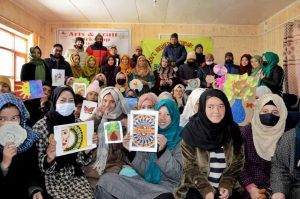 The girls proved their courage, determination and passion for arts and crafts by moving forward with the workshop despite the harsh winter.
More than 500 students from different schools learned various forms of arts such as Nortan Arts, Mandala Arts, pebble painting, postcard paintings, embroidery work and paper craft.
In this regard, a workshop concluded today at GHSS Bhimbet Drass and the artist group was appreciated by the head of the institution, staff members and students.