Education Department Kargil conducts orientation program on ERP, PM SHRI Scheme
Kargil, Dec 16, 2022: Education Department Kargil today conducted an orientation program at Conference Hall, Baroo on ERP software and PM SHRI scheme for Principals, ZEOs, Headmasters and Teachers of Government Schools.
CEO Kargil, Mushtaq Ahmad, State Nodal Officer, PM SHRI, Khushbu Joshi, Coordinator SAMAGRA Shiksha,Kargil Aga Syed Sajjad, District Nodal Officer, PM SHRI Zishan Ali attended the program physically. Team of experts from Hitachi MGRN Net joined virtually.
The CEO Kargil in his address asked all the stakeholders to ensure easy access to data, proper monitoring and functioning of the education system in the district. He also asked school heads to take advantage of such orientation programs to ensure better quality education for the below-poverty-line students.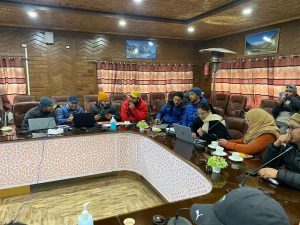 The experts from Hitachi trained the attendees on school expert system, school management, system analytics and digital learning platform. It was informed that the ERP software will act as a central portal to address all administrative issues of schools.
Later, State Nodal Officer, PM SHRI, Khushboo Joshi presented a PPT on PM SHRI and spoke on the importance of the scheme. She informed that 73 schools of Kargil district have been benchmarked by the Union Education Ministry.
She added that the scheme offers good physical infrastructure and appropriate resources conducive to learning are available to all students and will nurture students in a way that they become engaged, productive, and contributing citizens for building an equitable, inclusive, and plural society as envisaged by the National Education Policy 2020.
The program ended with a question and answer session regarding issues of Headmasters and Nodal Officers.