4 day long training program for Maternal and Newborn care concludes at Leh.
Leh, 16 August,2022
A four day long program under DAKSHATA for Training of Trainers on Technical Update and Skills Standardization for Maternal and Newborn care organised by National Health Mission UT Ladakh in collaboration with Jhpiego-India concluded at SNM, Hospital, Leh.
The skill based training program was exclusively for Gynaecologists, Medical Officers , Nursing Supervisors and Labour rooms incharge from both the districts of Union Territory of Ladakh.
A total number of 20 participants from both the districts took part in the training program. The aim of organising this training program was to empower the healthcare providers for ensuring quality care during intrapartum and immediate postpartum period in order to reduce newborn mortality rates in UT Ladakh.
During the concluding ceremony, interacting virtually Dr. Kamlesh Lalchandani, Program Director & Director operations, Jhpiego India, assured Jhpiego's support to the UT as and when required.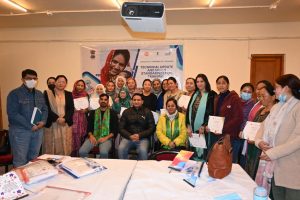 Dr. Sunita Dhamija, was happy to be a trainer for the Dakshata training. She wished good luck to all the providers for ensuring clients safety by all means.
Dr. Iftikhar Choudhary (IRS) Mission Director , NHM, UT Ladakh congratulated all the participants for attending and successfully completing the training program and urged them to follow the directions given by the experts during the training sessions.
He further thanked Jhpiego -India for making the training a successful one. He expressed special gratitude to resource person Rovin Sharma and Abhilasha Donald from Jhpiego India who came all the way from Delhi for this training program. He also thanked Dr. Sunita and Bhijali Sinha for joining the training program virtually.
Meanwhile, certificates were distributed among participants by Mission Director, NHM, UT Ladakh.