DC Santosh Sukhadeve takes stock of vehicular movement, road maintenance works at Zojila Pass 
Frames Zojila Management Commitee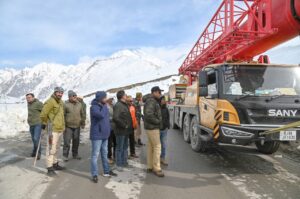 KARGIL, NOVEMBER  03, 2021:Deputy Commissioner and CEO, LAHDC, Kargil Santosh Sukhadeve today visited Zojila pass and took stock of vehichuler movement and various road maintenance measures on the pass in the aftermath of the recent snowfall.
DC Kargil took at length inspection of the Zojila Pass till Zero Point and interacted with the employees deployed at the pass who are engaged in the road maintenance works.
Senior Superintendent of Police (SSP), Kargil Anayat Ali Choudhary, Sub Divisional Magistrate (SDM) Drass Anwar Hussain, Executive Engineer R&B-II Kargil Kacho Mehmood Ali Khan besides other concerned officers of the Mechanical and Revenue departments accompanied the DC Kargil during the tour.
At Meenamarg, DC Santosh Sukhadeve directed the concerned officers to frame Zojila Management Committe to facilitate the employees and passengers passing through the Zojila Pass. He directed the Mechanical Department to ensure deployment of 3 tippers at Zojila Pass to sprinkle soil on the slippery portions on the pass besides 2 JCBs to ensure  smooth vehicular movement.
The Deputy Commissioner further directed that the remaining snow clearance of Drass Town should be completed by the Mechanical Division Kargil.
Meanwhile, DC Santosh Sukhadeve also visited Community Health Centre (CHC) Drass where he took stock of the status of heating arrangements and healthcare facilities being provided to the patients.He  directed the concerned officers to ensure provision of all necessary medical facilities to the patients at the health centre.
With regard to the Covid Screening Centre at Meenamarg, DC Santosh Sukhadeve directed to relocate it near Drass in view of the winter season and added that all measures should be taken for proper testing of passengers and implementation of COVID-19 protocols.
The Deputy Commissioner also visited the civil helipad at Meenamarg and took assesment of snow clearance works and landing capacity of the helipad.
Meanwhile, DC Santosh Sukhadeve also directed the concerned officers to take all necessary measures for smooth vehicular movement on the pass, and to remain in complete readiness to deal with any sort of emergency situation. He added that all departments should work in tandem and close coordination to ensure that all necessary facilities are provided to the people during the winter season.