CEC Feroz Khan attends felicitation function ahead of Sarhad Kargil International Marathon
KARGIL, OCTOBER 30, 2021: Chairman and Chief Executive Councillor, LAHDC, Kargil Feroz Ahmad Khan today attended a  felicitation ceremony ahead of the Sarhad Kargil International Marathon, 2021 which is being held on Sunday in Kargil wherein around 300 people are expected to participate.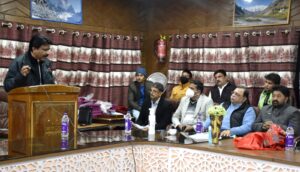 The Kargil International Marathon is being organized after a gap of two years by Sarhad NGO, Pune and Ladakh Police in collaboration with Ladakh Autonomous Hill Development Council Kargil and District Administration Kargil as a part of the events being organized under Azadi Ka Amrit Mahotsav.
The theme will be 'run for unity'. The theme song is written by poet Prabhakiran Jain which was also launched by the CEC on the occasion.
In the felicitation ceremony organizers and people associated with the Sarhad Kargil International Marathon, 2021 were felicitated and appreciated for their work.
Those who were felicitated included the Executive Councillor for Works Aga Syed Abbas Razvi, ADGP Ladakh S S Khandare, Commissioner of Police Pimpri Chinchwad Krishna Prakash R.Prasad, SSP Kargil Anayat Ali Choudhary, ASP Kargil Choudhary Iftikhar Ahmad, Abhay Chhajed, Shriram Pawar, Adille Sumaniwalla, Sanjeev Shah, Dr Shilesh Pragariya, Shivant Satyagupta, Abhay Chajud, Councilor Choskore Nasir Hussain Munshi, Vasant Gokhale, Sumant Wayear, Munshi Patag, Arvind Bejverde, Arvind Bejvidi, Muhammad Hamza, Syed Mehrajuddin Shah, Muhammad Ali, Muhammad Ashraf Ali and Ghulam Rasool.
Meanwhile, Press Club Kargil was also felicitated for its contribution in reporting the different issues of Kargil district.
On the occasion, Special Gaurav Award was given to Muhammad Ali Galwan and Jeevan Gaurav Award to Adille Sumariwalla, an Indian athlete and entrepreneur, popular for representing India at the 1980 Moscow Olympics.
In his address the CEC thanked Sarhad NGO for the marathon and their role in the education of children. He said that the LAHDC and District Administration Kargil with the help of all the departments will make the international marathon a successful event, adding he said that there is no dearth of talent in Kargil but the youth need opportunities and training.
CEC Khan stated that the marathon should be a permanent feature in the future saying that the LAHDC Kargil is always there to support such events. He also congratulated all the departments for their cooperation in making the event a successful one.
Deputy Commissioner and CEO, LAHDC, Kargil Santosh Sukhadeve expressed gratitude to the NGO Sarhad for organizing the marathon despite many challenges. He said Kargil has potential and we need to work more, adding he wished all the best for the event and said that such events will be organized in future as well.
During the felicitation ceremony, CEC Feroz Khan and DC Santosh Sukhadeve were also felicitated.
On the occasion, Adille Sumariwalla congratulated the people of Kargil for the Sarhad Kargil International Marathon, 2021 saying it will help people especially youngsters to excel in sports.
Pertinently, all the necessary arrangements have been made with different government departments to make the event successful.
Muhammad Hamza in his vote of thanks address thanked the Chairman and Chief Executive Councillor, LAHDC, Kargil Feroz Ahmad Khan and Deputy Commissioner and CEO, LAHDC, Kargil Santosh Sukhadeve for their active interest and support in smooth and successful conduct of the international marathon in Kargil District.