CEC Feroz Khan inaugurates blood donation drive at DH Kargil
KARGIL, SEPTEMBER 17, 2022:
Chairman and CEC, LAHDC, Kargil Feroz Ahmad Khan today inaugurated the national-wide blood donation drive here at District Hospital Kargil.
Executive Councillor for Health Mohsin Ali, Deputy Chief Medical Officer, Dr Mohd Abass, Medical Superintendent, DH Kargil, consultants, resident medical officer, medical staff, volunteer blood donors of Baseej-e-Imam, IKMT, Al Reza Health Care and Research Foundation, Salute 72 Blood Donor, Kargil, Balti Bazar Blood Donors and DHK blood volunteers were present on the occasion.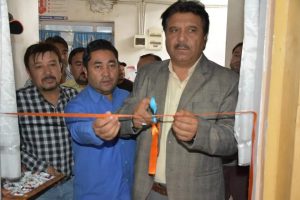 The CEC while highlighting the importance of blood donation urged the people to actively participate in such drives to avoid any tragedy with the patients who require blood. He said donating blood is a precious gift for humanity and strengthens the virtue of donation.
Later, EC Mohsin also threw light on the importance of voluntary blood donation in view of saving precious life and thanked the voluntary blood donors and donor organizations.
Meanwhile, a total of 226 voluntary donors registered on eRaktKosh portal.
Pertinently, the Union Health Minister has launched a massive blood donation campaign called "Raktdaan Amrit Mahotsav" Pakhwara from September 17 to October 01. The initiative urges individuals to donate blood and support the Prime Minister's Vision for mankind.