KARGIL, MAY 29, 2021: Councilor Kargil Town Haji Muhammad Abass Adulpa today flagged off the trainees of Government Industrial Training Institute (ITI) Kargil and Leh for on job training at Tata Motors facility Srinagar.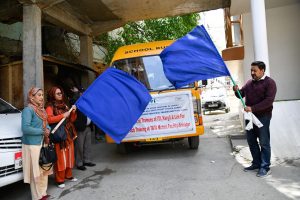 Superintendent ITI Kargil, Muhammad Kazim, Instructors of ITI Kargil and Leh, besides trainers and trainees of ITI Kargil and Leh were also present.
The 12 trainees of ITI Leh and ITI Kargil are participating in a training workshop from May 30, 2022, to June 04, 2022, in Srinagar.
The training program is organized by Technical Education and Skill Development Department, UT Ladakh in collaboration with Tata Motors.
Tata Motors will conduct the OJT program for 6 days at a Tata Motors facility at Srinagar and in addition it, it will also bear the expenses of training, conference room, trainer expenses, lunch, tea, etc. for all participants.
On the occasion, Councillor Kargil Town expressed gratitude to UT Administration Ladakh and District Administration Kargil for arranging such training for the participants.
He said that such training programs will help the unemployed youths to achieve their goals in industrial sectors and boost their skills.
Superintendent ITI Kargil, Muhammad Kazim said the trainees will get benefitted from such a training program and urged the participants to take maximum benefit from such training.