DC Kargil chairs meeting regarding SBI's NIAP campaign
Kargil, Nov 21, 2022:
Deputy Commissioner/CEO, LAHDC, Kargil Santosh Sukhadeve today chaired a town hall meeting at Conference Hall Baroo, Kargil, regarding the Nationwide Intensive Awareness Program (NIAP) being conducted by State Bank of India from November 01 to November 30 on the direction of Reserve Bank of India (RBI) to spreading awareness among people regarding online banking frauds, fraud calls, fake messages, hackers etc.
The meeting was attended by Lead District Manager, SBI Kargil, Muzaffar Hussain, Chief Manager SBI Main Branch Kargil, Phontsog Angchok, Cluster Head J&K Bank Ishfaq Ahmad, employees of Grameen Bank, Axis Bank, HDFC Bank, J&K Bank, ICICI Bank and Punjab National Bank (PNB) and other banks of the district.
During the meeting, DC Santosh explained the importance of NIAP campaign and advised all bank employees to spread awareness among people of Kargil about alerts of fake messages, calls and other types of hackers so that your money is safe in the bank.
The DC also advised not to answer the phone calls asking for OTP, or restoration of Debit Card or Credit Card and sometimes for cash deposit for big lotteries.
He said banks never ask for OTP on phone calls and debit/credit card problems. DC Kargil advised people to visit nearest bank branch and not to share card details via phone calls.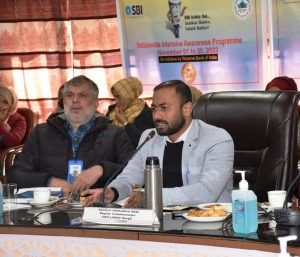 DC Santosh thanked the RBI in reaching out to Kargil with the mission of creating awareness and appreciated the role played by RBI in disseminating information to people.
During the meeting, the DC talked about the various insurance schemes of Government and stressed on two important schemes which are Pradhan Mantri Jeevan Jyoti Yojana and Pradhan Mantri Suraksha Bima Yojana.
The Deputy Commissioner advised to subscribe these insurance schemes adding that these schemes are very helpful in case of untoward incidents in life or death.
Earlier, the LDM SBI Kargil informed the meeting regarding the awareness programs held in different areas in the district adding that 126 villages have been covered from November 01 to till date, while only 23 villages are remaining.
The Chief Manager SBI Main Branch Kargil highlighted some well-known frauds and hacks which include Mobile Banking Trojans, Phishing, Key loggers and SIM Swapping.
He said giving details on phone calls or by clicking on unknown links could lead a customer to hackers' grip and money would be deducted without any notice.
Cluster Head, Ishfaq Ahmad advised the participants not to search for toll-free number on Google as it could lead them to unauthorized or fake websites.
He said sometimes the hacker may ask people for KYC completion on phone call and people should not answer such kind of calls and in case of so approach the nearest bank branch.