EC Mohsin Ali takes stock of damages caused due to recent untimely snowfall at Shakar Chiktan Sub Division
KARGIL, OCTOBER, 28, 2021: On the directions of the Chairman and Chief Executive Councillor, LAHDC, Kargil Feroz Ahmad Khan, Executive Councillor for Health Mohsin Ali who is also the Councillor of Chiktan Constituency today took stock of the damages caused in the aftermath of the recent snowfall and ongoing works for the restoration of essential services at various villages of Shakar Chiktan.
Chairperson Block Development Council (BDC) Shakar Chiktan Syeeda Banoo, In Charge SDM Shakar Chiktan Kacho Asgar Ali Khan besides other concerned officers and officials accompanied the EC during the tour.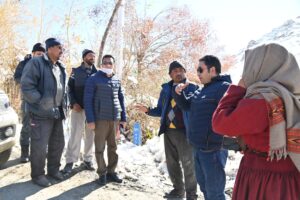 During the course of his extensive visit of the sub division, the EC took assessment of the damages caused due to recent snowfall at Henaskote, Bodh Kharboo, Khangral, Samrah, Pargive, Chulichan, Chiktan, Hagnis, Shakar, Dargoo, Kukshow and adjoining villages where he interacted with various public delegations to take first hand appraisal of their issues.
The EC was informed that due to the recent untimely snowfall tree plantations, fruit trees, electricity and link roads have suffered great deal of damages.
Regarding the restoration of road connectivity, the In Charge SDM Shakar Chiktan informed the EC that 90% snow clearance works on the link roads has already been completed, while the restoration of electric lines is going on in full swing. He also informed that the assessment team comprising of the officials of Revenue, Horticulture and Forest Departments has also been constituted so that the assessment process is completed in a timely manner.
EC Mohsin assured the locals that the survey team will assess all the damages and due compensation will be provided to the affected people under relevant rules. He also directed the concerned officers to re-connect the electric lines at the earliest possibility and conduct early assessment of the damages to fruit bearing trees.
Meanwhile, the EC also visited Community Health Centre Chiktan where he took stock of the availability of health care facilities and staff position. He stressed on the doctors and paramedical staff to ensure  proper healthcare facilities to needy patients, adding he urged them to attend their duties punctually.
EC Mohsin Ali also inspected COVID-19 Screening Point Khangral where he took stock of the functioning and facilities at the screening centre.
The EC also inspected the status of the  ongoing JJM works at Hagnis. He also  interacted with the concerned engineers, supervisors and workers and stressed  them to complete the works within the stipulated timelines.