EC Phunsok Tashi chairs meeting to review progress of ongoing works under different schemes in Zanskar
KARGIL, NOVEMBER 02, 2021:Executive Councilor for Tourism and Zanskar Affairs Er Punchok Tashi today convened a meeting of the sub divisional officers to review the progress of ongoing development works under different schemes in Zanskar Sub Division.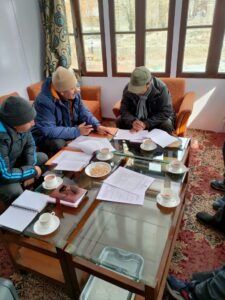 Sub Divisional Magistrate Sonam Dorjay, Executive Engineer PWD Muhammad Abass, BDC Chairperson Zangla Tsering Sandup besides other concerned officers attended the meeting.
The EC reviewed the details of ongoing developmental works of Zanskar Development Authority (ZDA), Public Works Department (PWD) and Rural Department Department (RDD) under District Capex, State Sector, SDP, PMDP and other related schemes.
CEO ZDA apprised the EC in detail that under District Capex, out of the total approved amount of Rs 2.75 crores 100% expenditure is expected till 31st March 2022. He further informed that under State Sector, out of a total budget of Rs 5.00 crores expected expenditure is 80% while in case of SDP out of Rs 2.5 crores, the expected expenditure would be 10%.
As regards to PMDP Scheme, the meeting was informed that 100 % expenditure expected out of the total budget of Rs 4 crores.
Under this scheme major expenditure has been incurred on the construction works of TFC Rangdum at a total cost of 2.24 crores and the building is ready for inauguration, the concerned officers informed.
Giving further details, the engineers informed that under the District Capex Budget, out of the total amount Rs 9.88 crores 90% expenditure is expected till March 2022 while under State Sector R&B out of the total amount of Rs 3 crores 60% expenditure is expected.
Under Languishing R&B out of total Rs 12.25 crores 80% expenditure is expected, while under PHE and Irrigation & Flood Control Rs 2.72 crores have been released out of which 60% expenditure is expected, the EC was informed.
Meanwhile, the Contractors' Union members called on the EC Zanskar Affairs and raised issues with regard to the release of bills.
Responding to the issues, EC Tashi directed the Treasury Officer Zanskar to take all requisite measures to address the issues and concerns of the contractors.
Expressing satisfaction over the progress achieved on different works so far, the EC appreciated the heads of concerned departments and stressed them to ensure completion of the remaining works within the set timelines.